Watt et al., (2003) 'Funhaler spacer – improving adherence without compromising delivery', Archive of Disease in Childhood 88 (7),
579–82).
Background
This is the third study we will be looking at from the 'Features of adherence to medical regimes' section of 'Healthy Living', as part of your OCR A2 Health and Clinical Psychology course. It is further categorised into 'Improving Adherence'
In the first study we looked at from 'Features of adherence to medical regimes' Bulpitt and Fletcher (1988) – Reasons for non-adherence: cognitive rational non-adherence, we looked at rational reasons for patients not adhering to medical regimes.
The first background study to this study suggests that there are often irrational reasons why people decide not to adhere to medical regimes:
Simons et al suggest that the reasons for not adhering are often irrational and therefore may be open to interventions to improve.
Ley (1981) Proposed The Cognitive Hypothesis Model of patient compliance, which suggests that patients have to understand and remember the medical regimes and thirdly they have to be satisfied with the regime, that is there is a lack of side effects and it is not to difficult for the person. If all three of these conditions are met, the patient is highly likely to adhere to the medical regime. 
The Watt et al (2003) study investigated behaviourist methods of increasing patient adherence. Some of the behaviourist methods in control:
Feedback

and self monitoring

Contingency contracts

 which involve rewards and punishments. 

Modelling – patients see and even interact with people who have been successfully treated

Direct reinforcements – for example being given target based rewards. 

Punishment

 – For example i

n New York laws were changed so that people had to take the treatment (tuberculosis) and come to the clinic and be seen to take it or face compulsory admission to hospital.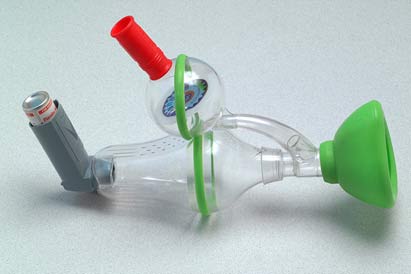 Synopsis
Watt et al (2003) – studied the effect of using a funhaler® with a whistle and a spinner to reward children for using their asthma inhaler correctly, shows how reinforcement can improve the children's adherence
Aim
To see if using Funhaler can improve children's adherence to taking medication for asthma.
Method and Design
A field experiment/quasi experiment.
Self reports were used to measure adherence.
Repeated measures design
Each participant spent one week using the normal pMDI inhaler, then one week using the Funhaler
Participants
A total of 32 children (10 male, 22 female; age range 1.5–6
years, mean age 3.2 years; average duration of asthma of 2.2
years).
Procedure
Each child was given the Breath-a-tech for one week.
The parents were given a questionnaire to complete.
In the second week the children used the funhaler and the parents were given another questionnaire with matched questions.
Findings
38% more parents medicated their children the previous day with the Funhaler in comparison to the existing treatment.
Conclusion
The spinner and whistle works well as a reinforcer to children with asthma, and helps to improve adherence.
The use of the funhaler does improve adherence to asthma medication.
Watt et al (2003) Evaluation
+ Validity – the independent variable was well defined and manipulated and therefore we can argue that the study was high in validity
+ Useful the study is useful for increasing health behaviours in individuals, as increasing or simply implementing reinforcers can increase adherence to medication.
– Ethnocentrism – the sample consisted asthmatic children only, therefore we can argue that it is difficult to generalise the results to wider populations.
– Reductionism – the experiment has not considered the wider causes for the adoption of health behaviours.
+ Construct validity – this study shows support for behaviourist operant conditioning.
References
Watt et al., (2003) 'Funhaler spacer – improving adherence without compromising delivery', Archive of Disease in Childhood 88 (7), 579–82).
Further Reading
OCR A2 Psychology Student Unit Guide New Edition: Unit G543 Health and Clinical Psychology (Student Unit Guides)
Psych Yogi's Top Ten Psychology Revision Tips for the A* Student
Summary
Article Name
Watt et al (2003) - Improving Adherence
Description
'Features of adherence to medical regimes' section of 'Healthy Living', ReviseOCR A2 Health & Clinical Psychology exam. Revision 'Improving Adherence' evaluation.
Author