Canter and Heritage., (1990) – 'A multivariate model of sexual offence behaviour: developments in offender profiling', Journal of Forensic Psychiatry 1, 185-212
Background
This is the third study we will be looking at from Making a Profile, as part of your OCR A2 Forensic Psychology course. It is further categorised into 'bottom-up.'
The background for this study is Canter's circle theory and the bottom up approach to profiling. It is highly recommended that you read: Mapping Murder: The Secrets of Geographical Profiling
 in order to fully understand circle theory.
The bottom up approach to profiling is the method preferred by the British, with a key advocate of this being Professor David Canter. An underlying assumption of this approach is the 'criminal consistency hypothesis,' which has two parts 'spacial consistency' and 'interpersonal consistency.' The criminal consistency hypothesis suggests that a criminal will stay somewhat consistent throughout their criminal careers: a axe murderer will likely not switch to hit-and-run style murders. Spacial consistency refers to a criminals likelihood to commit crimes in areas in which they are familiar. Interpersonal consistency refers to a criminals likelihood to commit crimes which reflect their level of social competency.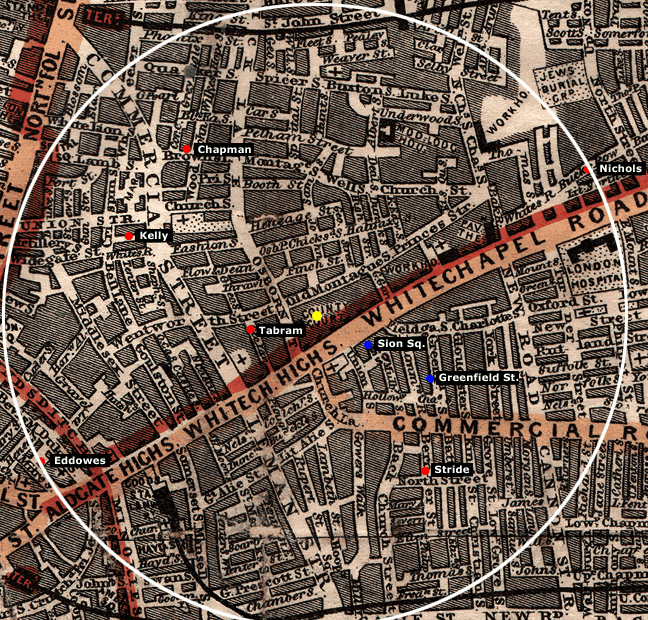 Circle theory is based upon the assumption that criminals will commit crime in areas they know and not exactly where they live: the crimes they commit will be around their home or base.  The theory suggests that if all the crimes that an offender committed were placed in a circle, then the criminal is likely to reside within that circle.
Canter furthers his theory by suggesting that there are two types of patterns, marauders and commuters. Marauders commit crimes in areas around their home. Commuters commit crimes in areas to which they have commuted. Canter notes that the crimes of commuters will be closer together, than those of marauders.
Video on Circle Theory:
Aim
To identify a behaviour pattern from similarities between offences.
Method and Design
A content analysis of 66 sexual offences from various Police Forces committed by 27 offenders was conducted to find 33 offence variables, which were clearly linked to a potential behaviour characteristic. For example, variable 2 was 'surprise attack.' It was possible to say 'yes' or 'no' to each variable.
Sexual offences are chosen because there is a large amount of information available about the perpetrators' actions.
The data was analysed using a smallest space analysis.
Findings
The following variables were found to be central to the 66 cases of sexual assault;
Surprise attack
Vaginal Intercourse
Impersonal language
Victim's clothing disturbed
No reaction to the victim
This suggests a pattern of behaviour where the attack is impersonal and sudden. The victim's response is irrelevant to the offender. Less central were a further five elements of the attacks, which have been found to be important in other research. These were attempted intimacy with the victim, sexual behaviour, overt violence and aggression, impersonal interaction and criminal behaviour and intent.
Canter called this 'five factor theory'. As all five were found in 100% of the rape cases.
Conclusions
Canter believes that the usefulness of this method is that all five aspects have now been shown to contribute to all sexual offences, but in different patterns for different individuals. This can therefore lead to understanding how an offender's behaviour changes over a series of offences or more usefully still establish whether two or more offences were committed by the same person. This has become known as Canter's five factor theory.
Canter and Hertiage (1990) Evaluation
+ The source material used showed both concurrent validity and reliability.
– Ethnocentrism – The results and conclusions cannot be generalised to other crimes as the only crimes studies were the third crime of a serial killer.
Audio Podcast
References
Canter and Heritage., (1990) – 'A multivariate model of sexual offence behaviour: developments in offender profiling', Journal of Forensic Psychiatry 1, 185-212
Further Reading
Sexual Homicide: Patterns and Motives
Mapping Murder: The Secrets of Geographical Profiling
Criminal Shadows: Inside the Mind of the Serial Killer
OCR A2 Psychology Student Unit Guide: Unit G543: Forensic Psychology (Student Unit Guides)
Summary
Article Name
Canter and Heritage (1990) - 'A multivariate model of sexual offence behaviour: developments in offender profiling'
Description
Canter and Heritage (1990) - 'A multivariate model of sexual offence behaviour: developments in offender profiling'
Author