Canter – John Duffy Case Study 'The Railway Rapist'
Background
This is the fourth study we will be looking at from Making a Profile, as part of your OCR A2 Forensic Psychology course. It is further categorised into both 'case study.'
The background for this study is Canter's circle theory and the bottom up approach to profiling. It is highly recommended that you read: Mapping Murder: The Secrets of Geographical Profiling
 in order to fully understand circle theory.
It is also highly recommended that you read all of the previous studies in making a profile before reading this case study, ideally this case study should consolidate your knowledge.
Case Study
Between 1975 and 1986 23 women were raped aged between 15 and 32 at railway stations in and around London. Canter became interested in the case after reading reports in the Evening Standard. In the early 1980s two Police Officers were appointed to help him draw up an offender profile. Canter placed all the cases on a map and this allowed him to speculate about where the rapist might live. He categorised perpetrators as 'marauders' or 'commuters.' Depending on whether they strike from within their home base 'marauders' or travel away from home 'commuters.'
Canter's starting point for this profile was the idea that a violent crime can be seen as a transaction between at least two people and therefore it must reveal something about the way the offenders deals with people.
Canter identified two themes in regard to how the offender commits the crime.
The first theme is how the offender deals with the victim.
The second theme is how much dominance is used.
In the John Duffy case, a minimal amount of dominance was used because weaker victims were selected.
Studying the cases over four years they placed the cases on a map and overlaid year on an acetate film to reveal distinctive patterns in the locations and types of his crimes. This allowed Canter to speculate on where Duffy was likely to live. This method was later developed into his circle theory:
John Duffy was considered a Marauder.
Preliminary Profile
Physical Characteristics:
Mid to late twenties. Light Hair, about 5'9″, right-handed.
Occupation:
Probably semi-skilled or skilling involving weekend work or casual labour from July 1984 onwards.
His job most likely does not bring him into contact with the public.
Character:
Likely keeps himself to himself, but has one or two very close male friends and probably very little contact with women, especially in a work situation.
Has knowledge of the railway system along which the attacks happened.
Sexual Activity:
The variety of his sexual actions suggest considerable sexual experience.
Criminal Record:
He was probably arrested sometime between 24th October 1982 and January 1984 and this attack may have had nothing to do with rape, but will have been aggressive and under the influence of drink or drugs.
This was the first case to have an attempt to use behavioural characteristics to search for a criminal instead of purely forensic evidence from the crime scene. It was successful.
In November 2000 John Duffy who was serving life for the rape and murder of several women, confessed that he was responsible for many more and that he committed some of the rapes with an accomplice: David Mulcahy.
Initially, before the geographical profiling and the behavioural profiling Duffy was one of 2000 suspects, after the profiling he became one of two.
Canter's profile of John Duffy: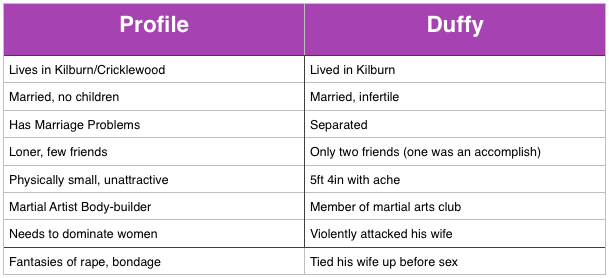 Evaluation
+ Usefulness, profiling proofed to be useful in the apprehension of Duffy, however erroneous profiling can cause the police to miss real evidence.
– Androcentrism, only one male (two with accomplice) studied.
– Validity, Canter did not predict that there would be an accomplice.
References
Further Reading
Sexual Homicide: Patterns and Motives
Mapping Murder: The Secrets of Geographical Profiling
Criminal Shadows: Inside the Mind of the Serial Killer
OCR A2 Psychology Student Unit Guide: Unit G543: Forensic Psychology (Student Unit Guides)